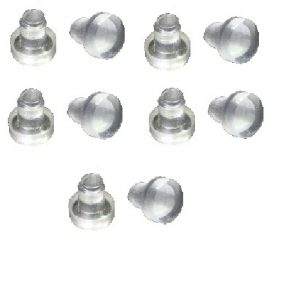 Under Glass Clear Silicone Bumpers are now available to replace worn or damaged bumpers on your patio tables.
These bumpers are a "mushroom type" and have a locating stem that pushes into the aluminum frame keeping it in place.
Most outdoor tables sold by Bunnings, Amart, Harvey Norman & Masters use these type of bumpers.
They stop glass tops from "grinding and slipping" on outdoor patio furniture frames.
They are sold as a set of 10 Bumpers.
Disc Pad: 10mm x 5mm
Stem Length: 8mm
Stem suits 6mm hole
Heavy Duty Clear Silicone
Click HERE to explore